in the case of the trip that I have made along the route of the Atlantic coast of Ireland,  there have been occasions to see charming villages .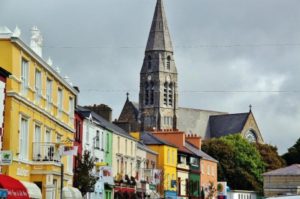 If I have to highlight one, Clifden will be in the top .
Located in the area of Connemara , a peninsula near Galway , the main city of this area west of Ireland , do not expect to find a historic town … but a nice town.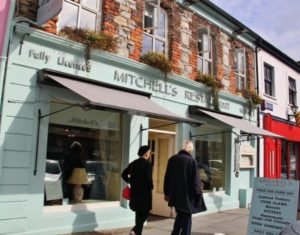 In fact, Clifden was founded in the 19th century, so it seems that it is one of the youngest towns in Ireland.
What to see in Clifden
In Clifden you will find, in particular, two long shopping streets, with buildings with very colorful facades, all decorated with flowers, and shops with cute shop windows.
If you like shopping during your trips, reserve time for your Clifden visit.
I tell you that in this town you will find many establishments with gift items, antiques and handicrafts , especially wool.
Viewing the shop windows you will see that the big wool jerseys are the main protagonists as the most typical souvenir of the area.
Another feature of Clifden are the many restaurants you will find.
In fact, it is reputed to be the gourmet capital of the west of Ireland, and there are also the typical bars where you can have your Guinness beer  or, if you prefer, tea rooms with a wide range of sweets.
In short, a town that, yes, is quite touristy, so there are also plenty of hotels and Bread & Breakfast , all with a charming style and decoration.