Nobody doubts that Japan is one of the most attractive tourist destinations in the world and every day more people are thinking of visiting it, or if they have already done so, get to know more cities.
But due to the cultural shock, the trip to countries of the Far East always always raises doubts when it comes to organizing it and in this article we want to help you.
The first thing is to say that we (still) have not been to Japan despite having already visited several countries in that area of ​​the world, such as China , Cambodia , Vietnam , Laos or Indonesia , specifically Balí .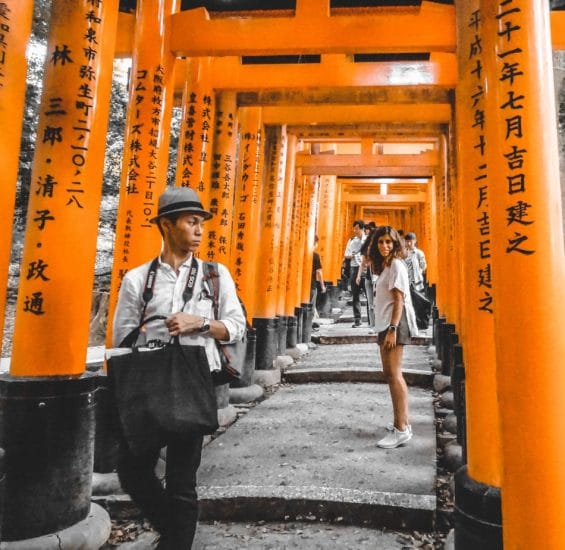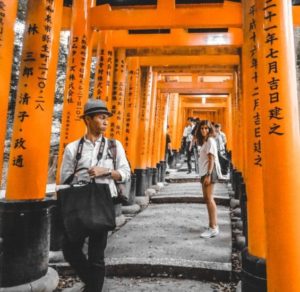 But coinciding with the departure of the new Lonely Planet guide dedicated to Japan , we had the opportunity to chat with the best journalists and travel communicators , who have transmitted their experiences throughout their various trips to the country.
In this gathering, they have shared experiences and advice so useful that we believe that any traveler who is thinking of traveling to Japan may be interested.
In our case we were already thinking about making a trip to the Japanese country and taking advantage of this gathering and the departure of the new guide of Japan Lonely Planet , we will share with you some tips on how to organize a trip to that country.
Tips for traveling to Japan
When planning a trip of these characteristics, you must always have clear points that vary depending on each person.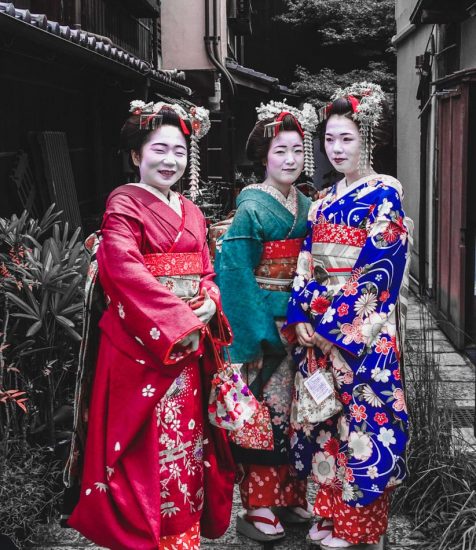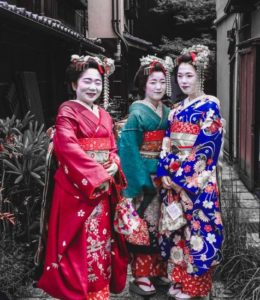 Budget to travel to Japan
Japan is not a cheap country, but the costs of traveling to the Japanese country are not what they were years ago, that's why every day more people can afford it.
The subject of the budgets is very variable depending on the purchasing power of each person and the days of stay in the country.
Throughout the article we will be giving information about some prices and tips, but to give you a quick idea …
The most expensive by far are the accommodations, which also tend to be small; and on the other hand the cheapest thing is to eat , which you can do from 8-10 euros.
If you book flights with time, from Europe you will find prices between 500-600 euros round trip
A backpacker is able to spend 15 days in Japan for about 1000 euros, but the average traveler has to have a budget of between 2,500 and 2,700 euros per person for that same number of days.
Japan Travel Guide
When we travel for the first time to a country that we do not know, we like to take with us one of the Lonely Planet guides  in the hand luggage, the Travel Guide of Japan being suitable for this occasion .
Many times we do not have internet and we need to look for information, be it restaurants, maps, places to visit or in general, any type of information.
That is why a guide always with us.
Best time to travel to Japan
The cheapest time to go is from January to March, but it must be said that at that time at that time in Japan it is quite cold.
That's why part of the tourism that takes place in those months is usually related to skiing, especially to practice it in the Japanese Alps or on the island of Hokkaido .
As surprising as it may seem, Japan has more than 500 ski resorts.
From June to July and from September to December is the rainy season and in certain areas typhoons are even produced.
Therefore, the high season to travel to Japan is from the beginning of April (the time when hotel prices rise due to cherry blossoms, a special event throughout the country) until the end of May.
August is also considered high season, but yes, it is usually quite embarrassing.
Buy flight to travel to Japan
All agree that one of the great explanations of the increase in tourists visiting Japan is the decline in prices, in general, and flights, in particular.
I give you examples:
Looking for flights now, if you hire it 5 months in advance with arrival in May, leaving from Europe the flights leave for just over 450 euros.
If on the contrary you do it with 3 months alone, for, for example, flying in March, which is high season there, it costs less than 600 euros.
In both options the price is per person, with a single scale and a total of between 15 and 17 hours until arriving at the destination leaving from Spain and without any special offer.
No doubt a real incentive to travel.
On the other hand, domestic flights are cheaper than hiring a single bullet train trip , but they are more expensive than traveling on that same train if you have the " Japan Rail Pass " card.
Visa to enter Japan
The visa to travel to Japan for trips of less than 90 days is available for most nationalities at the airport of arrival. There are very few countries whose residents require prior procedures.
They take a picture of you and they take your fingerprints, and it is necessary that your passport does not expire during your stay in the country.
It is also convenient to take the return ticket to guarantee your departure from the country.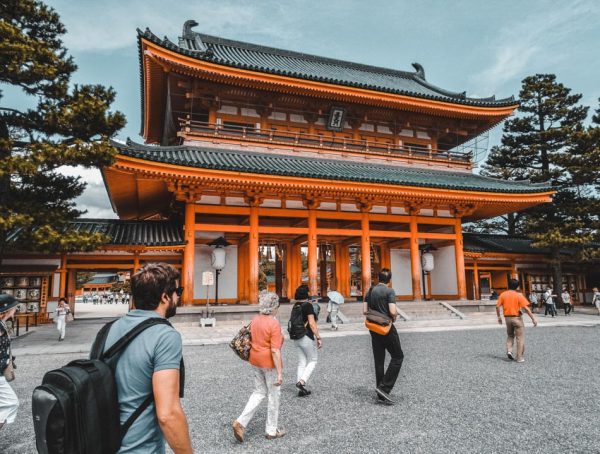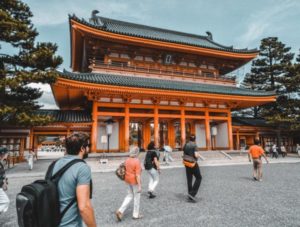 Hire insurance to travel to Japan
If you do not have medical insurance, do not travel … that's for sure; With the face of medical treatments worldwide, it is essential to travel insured.
It comes to cost about 150 euros and if something happens to you and you do not have it, you would have to pay several thousand euros, it is not worth the risk.
Where to sleep in Japan
The prices of hotels in Japan usually take a very important part of the budget.
Small rooms at high prices, since you mainly pay for the space you occupy, more than the quality of hotel services, especially in large cities.
The great variety of prices is mainly determined by three aspects almost always in this same order, the location, the size of the room and the type of hotel.
When looking, it is advisable to look carefully at the photos of the hotels to know what type of accommodation you are going to reserve and compare prices.
You can see it through any search engine or comparator, in our case we usually search on booking.com .
As in any city in the world, in Japan there are also hotels of different levels and with very variable prices.
So you find from a hostel with shared rooms for 30 euros, through the famous capsule hotels for a similar price, to large luxury hotels.
But beyond the classic hotels, there are options that allow you to know part of Japanese culture.
You can stay in a  Ryokan , which is a traditional Japanese inn, the classic image of a house that we all have in mind, with paper doors and wood and bamboo structures, all very authentic.
Some of them, especially the most expensive, have onsen , which are thermal waters of volcanic origin.
You also have the option of a minshuku,  which is actually renting an apartment or a room of a citizen, in the purest B & B style .
The only thing that is often difficult because not all areas offered the minshuku through internet and English.
Another very peculiar alternative is to sleep in a shukubo , an accommodation in a Buddhist temple; It is not very common, and less so for tourists, but in some places it is already possible.
And familiarize yourself with these terms; in most hotels they usually give you the traditional " yukata " cotton kimonos ; " Geta " are the classic wooden sole shoes; and " futons " are the thin mattresses that are put on the floor to sleep on.
What to see in Japan
Depending on the days you want to spend in Japan you can do some routes or others.
Do not expect to see the whole country in 10 days, it's impossible.
Most of the routes include the visit of Tokyo as a starting point, a very modern Asian city of shopping and culture, and Kyoto as the second important city, with its traditional temples.
You would need at least three days to see each one of them well, and without too much haste.
From here the offer to choose begins to grow.
You can go down to the south and see Osaka , Nara and get to Hiroshima , or climb the ski villages with traditional wooden houses in the Japanese Alpspassing through Kanazawa .
Another option is, after visiting Tokyo, go to the natural surroundings of the emblematic Mount Fuji .
And already visiting the ends of Japan, in the north the island of Hokkaido you find an impressive volcanic area of ​​smoky onsen .
It is an area where you can spot a large number of wild animals, such as the typical cranes, or more impressive animals, such as bears.
And for those who repeat, maybe they want to plan a visit to the most unknown part of Japan, the south, with cities like Fukuoka .
In short, prioritize what you want to see your trip, because you can not know the whole country if you do not go at least a month.
Where to change currency in Japan
You have to know that most ATMs do not accept credit cards from outside the country, but in reality it is not too much of a problem since you can pay by credit card for most of the purchases you make.
If you need money you could change in the hotels or exchange stores
What to eat in Japan
Although it seems strange, in Japan it is not so easy to find sushi to eat. The idea that has emerged outside the Japanese country is that in Japan they only eat sushi , but in fact they eat everything and only a small part is sushi ,
In most restaurants there are menus for about 8 euros at lunchtime, which double their price at night.
The best thing to do is get carried away and try everything you see, both in restaurants and local supermarkets, which is a unique experience to visit them.
Soups, noodles, rice, meat, mountain dishes, seafood, each city has its own specialties.
When looking for restaurants or typical dishes, the guides usually highlight the best, so if you organize your trip take a look at the guides that are sure something interesting you discover
Thermal baths in Japan (Onsen)
One of the most popular activities is to enjoy the thermal waters  with the so-called onsen .
Being a volcanic country, its soils are very hot, which produces these thermal waters.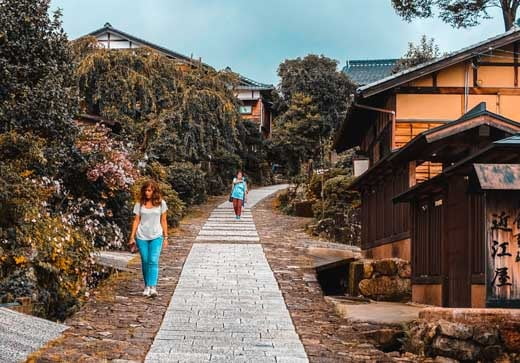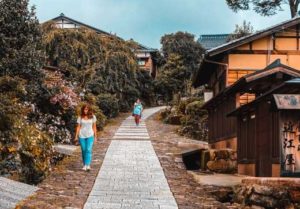 In rural areas there are free outdoor onsens , in addition to the interiors in special enclosures for this, even for prices around 8 or 10 dollars.
It is said that these hot springs are good for the body because of its high mineral content.
How to have Wifi internet in Japan
The big cities have free wifi on the street, although they told us that it does not always work perfect in every corner of the city.
The best option to our understanding is to rent a mobile router  to always have an Internet connection with you , which can be very useful to use applications such as Google Maps and to move around the country by car.
Another option to buy a prepaid SIM card with internet connection and calls that you only have to recharge, although you have to keep in mind that in Japan to have this type of card requires a contract of a minimum of 6 months.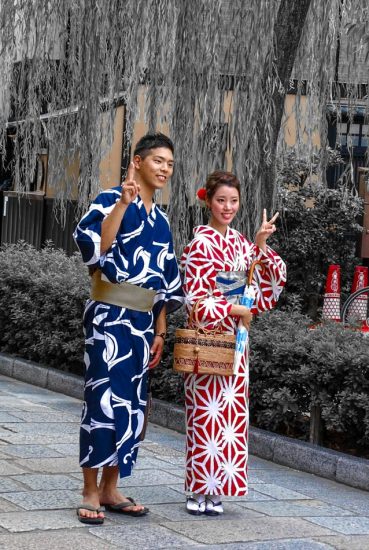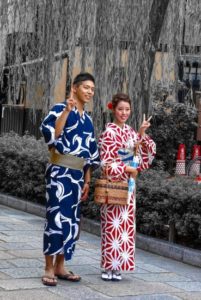 But what you can do is buy a data card only; You will not be able to call but you will be able to use the internet .