there are places in the world, like the Grand Canyon in Arizona  or the Iguazu Falls , where the impression you get to see them is much greater than you could imagine.
That same feeling causes you to find yourself in Xian before the original place of the excavations, seeing the thousands of warriors placed in rows, which is unlike any other image you could have of them before.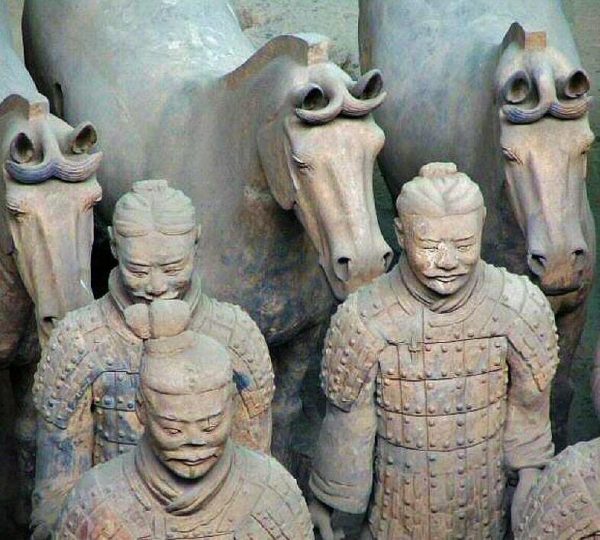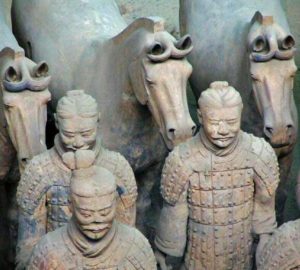 Who made the terracotta warriors
Considered the most important archaeological excavation of the 20th century in the world, the Terracotta Warriors of Xian have their origin in the year 246 BC .
By then, Qin Shi Huang , the first emperor of unified China, at the age of 13, after his enthronement, commissioned the construction of his mausoleum , which lasted 11 years.
As it happened with all the great tombs and mausoleums of the Chinese emperors, this mausoleum was covered so that no one could know where it was.
And so it continues happening today.
What Terracotta Warriors Are and What They Protect
When you visit the area of ​​the excavations , which you find in the vicinity of the city of Xian , you can see an extensive area of ​​flat land with some mounds, and it is assumed that in some of them the mausoleum is hidden.
The army of terracotta warriors had the function of protecting this mausoleum, so that like it, thousands of warriors hid in the surrounding land.
And in fact, it is considered that the warriors found so far in the excavations only represent a minimal part of the true dimension of the terracotta army.
When and who discovered the terracotta warriors
In 1974, when some farmers were digging a well for water, they found archaeological remains that aroused the interest of the Chinese authorities.
After the excavation that began, began to come to light the first terracotta warriors.
Where and how to visit the terracotta warriors
At present, the excavations of the Xian Terracotta Warriors occupy more than 16,000 square meters , and in reality there are three excavation pits, which are separated by a short distance between them.
These excavations began to visit from 1979.
In total, in the area of ​​the excavations there are almost 8,000 soldiers, horses and cars , in addition to thousands of spears and other types of weapons, but as I said before, not all have been brought to light.
The Terracotta Warriors of Xian were declared a World Heritage Site by Unesco in 1987.