For many people the Nordic countries attract a very special attraction. That is my case since I was very young.
It was then that I visited Finland  for the first time  on a long  trip to the North Cape by road.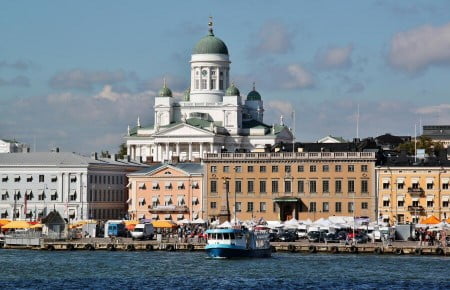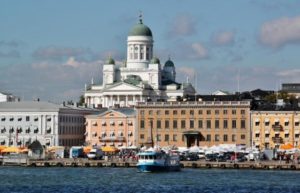 Then, later, I returned to Finland a couple of times on professional trips, but until recently I had not known Helsinki .
A couple of summers ago I had the opportunity to  visit Helsinki , a city where I spent three days, which, against what may be usual, were totally sunny.
And more recently I have returned to Helsinki as a stage in the trip to Finnish Lapland .
On both occasions I have enjoyed some splendid days, as you can see in the photos, which magnified the attractiveness of the city.
In particular in summer its streets and terraces were always very busy, no doubt in search of enjoying the sun and light, which in Finland has a value equivalent to gold.
In this way  Helsinki appeared to us as a luminous city, very pleasant to walk around and discover its most outstanding monuments and its neighborhoods where your numerous modernist buildings and their designer brands shops attract you .
How to fly to Helsinki
To fly directly to Helsinki  from Spain every day you have flights from the   Finnish flag company, Finnair , which offers a service on board almost from past times, which is appreciated on a flight of just over four hours from Madrid.
Also several days of the week you can fly with the low cost  Norwegian , with the advantage of having free wifi on the plane.
Once you have landed, to go from the airport to Helsinki  you have the Finnair bus line (6.30 euros the ticket) that will take you in half an hour to the city center, specifically, to the train station.
One of the first things that will surprise you in Helsinki is knowing that in Finland they have Swedish as a second language.
This is reminiscent of the many centuries in which that country was  under the rule of Sweden  before it came under Russian domination in 1809.
Although currently young Finns do not understand that they have to learn Swedish in schools, because they prefer English as a second language, you will always see the indications and the information in Finnish and in Swedish.
As a first tip for your trip to Helsinki , I will tell you that it is a very easy city to visit.
What to see in Helsinki
The most interesting monuments,  the most attractive neighborhoods and the busiest streets are concentrated around the main port, located in the Market Square .
Therefore, it is a city that you can largely know walking, except when you go to visit the  monument to Sibelius or the museum of Seurasaari houses   , north of the city, in the area of Meilahti.
When you get to this area of ​​the city you will discover that only 15 minutes by bus you can see a typical Finnish countryside landscape of forest and lake.
Of course, I will tell you that Helsinki is a city of trams , which from my point of view makes it more attractive.
The long trams of striking colors that travel through the city center allow you to move from one place to another very quickly.
Therefore, if your visit to Helsinki is going to be a stopover on a cruise on the Baltic Sea , you must be calm because you will be able to see the most interesting part of the city in one day.
Uspenski Cathedral
Next to the aforementioned Market Square you have the  Uspenski Cathedral, an Orthodox rite, with its striking red brick facades and golden domes.
And in this square you also find the Town Hall building  , which you can visit.
From there, through the streets of the so-called Barrio Tori ( Tori Quarter ), you arrive at the great esplanade of the Plaza del Senado .
You will be in the monumental center of the city, with the imposing and very white Helsinki Cathedral  and the Senate building .
Chapel of Silence
But the design, which will be the protagonist in your visit to Helsinki , will be present in two other temples that, if you can, you should see in the Finnish capital.
It is the most cosmopolitan street in Helsinki , where the best hotels and restaurants, the most attractive terraces and the shops of the most expensive brands are concentrated.
Design District
Following that street you come to the so-called Design District , where many shops are concentrated where design is the protagonist, especially of prestigious Finnish brands of clothing, furniture, glass or porcelain.
In a city open to the sea, as it is Helsinki, in your visit you should not miss boarding a boat to take a panoramic cruise  that in an hour and a half gives you a different view of the city.
During the cruise you will see the small islands that surround it, as well as several of the ten leisure ports available, with more than 10,000 moorings.
If you have enough time in your visit and enjoy a good day, it is worth the boat trip to the fortress of Suomenlinna.
It was built in 1748 and declared a World Heritage Site by Unesco as an example of European military architecture in its time.
This very pleasant walk through green fortified places, between big canyons, and with several museums , like in what the old Finnish submarine Vesikko has become , can take you between two and three hours.
Your Helsinki visit will be incomplete if you do not go to one of its covered markets .
In the same port you have the Old Market , the main one of these buildings, but you also have others of this type of market very similar to the  Ostermalms Saluhall in Stockholm  in which they combine very striking shops with bars and tapas areas.
Eating out in Helsinki
So, I'll tell you that a trip by tram costs 2.20 euros, a coffee, from 2 to 3 euros and a pint of beer, between 5 and 7 euros.
Eating at a fast food establishment (Chinese, pizza …) will cost you between 9 and 12 euros, plus the drink (if you are in a hurry, you will have a free tap water in your country).
If your budget is more generous, for the main course of one of the many Finnish restaurants , but also Italian or oriental, you must pay between 18 and 28 euros, so a dinner will not be less than 40 euros per person.
Of course, at noon (between 12 and 14 hours) the bars and many restaurants offer you a lunch menu whose price is 10 to 12 euros, plus the drink. Enough to eat.
You only have to enjoy the visit of Helsinki .