The first thing you should know is that Helsinki has two cathedrals, that is, two large churches that are also very close, and both buildings can be seen clearly when you stop at their port on board a cruise ship.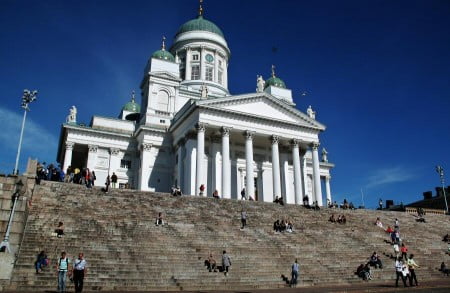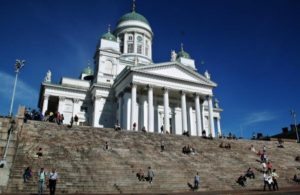 To the east of your view you will find the  Orthodox Uspenski Cathedral , which is distinguished by the striking red color of the bricks with which the building has been built, and the green color of the domes.
This is a cathedral that clearly symbolizes the historical Russian rule of Finland, which ended after the Russian Revolution .
However, the church of the Lutheran cult has a completely different image.
Also known as the White Cathedral for its striking white façade, it rises majestically on the north side of the very wide and pedestrian square of the Senate , the monumental center of Helsinki.
Previously, where you can see it now there was a hill, but within the plan of creation of the urban development of the aforementioned square commissioned by the German architect Carl Engel , the new cathedral was going to acquire a great prominence.
The building of the  Cathedral of Helsinki was built between 1830 and 1952 in neoclassical architectural style , and following the trend marked by the Kazan Cathedral in St. Petersburg , which had been built in 1811.
Initially it was baptized as the church of San Nicolás , in homage to the Russian tsar Nicolás I , but after the departure of the Russians from Finland it became known as the Great Church , and by the middle of the 20th century it became the Cathedral of Helsinki .
You can see the cathedral from many places in Helsinki, given its elevated position.
What to see in Helsinki Cathedral
When you reach the Senate Square , you will surely be impressed by its imposing figure at the top of a grand staircase, crowned with a large dome.
The pedestrian configuration of the square, in whose center you find the statue dedicated to the Russian Tsar Alexander II , enhances the image of the cathedral and its great white coloring .
When you enter to visit it, you will see that it is a much smaller building than you could imagine.
With a plant in the shape of a Greek cross, there are very few architectural or artistic elements worth mentioning in its interior, which shows great austerity.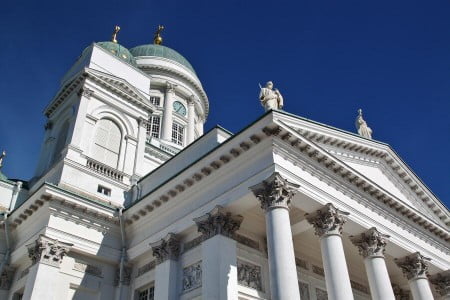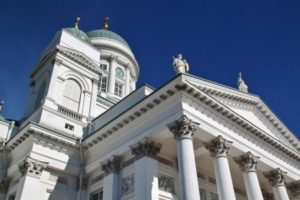 Thus, you can see an altarpiece donated by Nicolás I , with the theme of the burial of Jesus Christ . And little more than a pulpit and a large modern organ.
In the crypt of the cathedral , events such as exhibitions or concerts are usually held.
The visiting hours of the Cathedral of Helsinki are, in summer, from 9 to 24 hours, and the rest of the year, from 9 to 18 hours.