If you plan to travel to northern India , the capital  Delhi will surely be your gateway. And, we warn you, it's not an easy city.
With its approximately 15 million inhabitants and chaotic traffic – so characteristic of the country – in all its splendor, Delhi is undoubtedly the place where you will experience the greatest cultural shock .
However, as the capital of India, Delhi is a very interesting city with many places worth knowing. Do not know where to start?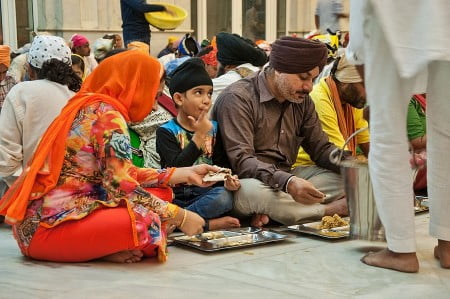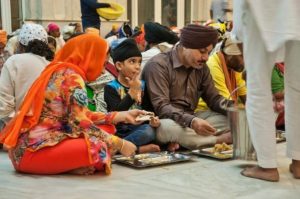 Here we give you some hints of essential visits in Delhi .
Sikh Gurdwara Bangla Sahib Temple
In this huge temple to the ground is built in marble.
The followers of Sikhism , a relatively minority religion but very influential in Indian society, find their meeting place here. And that means that there is always an atmosphere.
More than a temple, the Gurdwara could be classified as a "small city", since it even has a hospital, school and dining room.
Do not miss the chants at the temple at any time, but what is most surprising is, oddly enough, the dining room.
It is a spectacle to see hundreds of people spend every few minutes and be served at once a complete menu.
If you stay hungry, you repeat; The only rule is to leave nothing in the tray.
Do not forget to visit the kitchen, where you probably see the largest pot of lentils you've ever imagined. If you feel like collaborating, everyone is welcome to knead bread or wash dishes.
 Humayun's Tomb
After lunch in the Sikh temple , a perfect place to get away from the crowds and the bustle is Humayun's Tomb .
From this complex you could think of anything less than a cemetery, since it is a very pleasant place to walk, with large gardens dotted with Mughal tombs.
Among them, the most outstanding one is obviously that of Emperor Humayun .Declared a World Heritage Site in 1993, its greatness is only eclipsed in front of the Taj Mahal , so you'll be grateful to visit it before heading to Agra .
It is said that, for the construction of the Taj Mahal , Shah Jahan was inspired by the grave of his grandfather, and in view of both monuments, there is no doubt that this statement contains a great truth.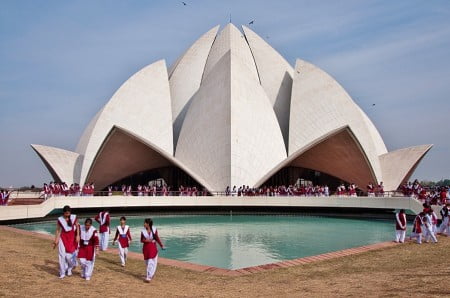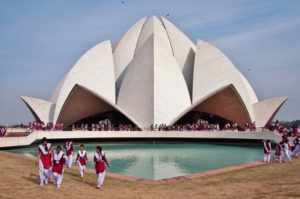 Lotus Temple
If you have not heard about the Baha'i religion , in Delhi you have a great opportunity to meet her.
There are only seven temples of this faith in the whole world and one is here, in the capital of India, a country where Baha'i has a greater number of followers.
While you will be impressed by its marble exterior and in the form of a lotus flower (from which it takes its name); its interior is simple, sober and almost austere, according to the Baha'i canons , and aims to be a meeting place for people of any faith.
The temple is run by volunteers from all countries, so do not be surprised if someone speaks to you in Spanish and takes the opportunity to ask you all the questions you want.
Connaught Place
In the very center of Delhi , this huge square of Victorian architecture has become a focus for the upper classes of the city.
Cinemas, restaurants, nightclubs and high-end bars alternate with boutiques, airline offices or distinguished companies.
Connaught Place  is the ideal place to observe the high Indian class, and to sit down to make local friends in Central Park , garden located in the center of the square, where stands a huge flag of the country.
Finally, if there is a place in the city where all the topics of the country come to life, it is the Old Delhi : colors, flavors, noises, smoke, monkeys and a marabunta of people together and revolted in a labyrinth of charming little streets.
This charm at first may be difficult to perceive because it is an area almost always collapsed by an infernal traffic. Therefore, we recommend you take this trip when you have had a few days to get used to the delirious rhythm of the city.
Starting from the great Red Fort (which also deserves a view) you can walk along the great Chandni Chowk , where you will find a thousand streets where you can buy everything from jewelry to fabrics, not forgetting books, nuts, spices and tools.
Many of the restaurants in the area are famous among the great gourmets of the country, so be sure to give them a chance; if one has a tail, it is worth it!