We must recognize that we are lovers of this type of museum, and in our recent trip to The Hague  we could not resist to take a bike and get closer to meet him.
The Hague is one of the most important cities in Holland , since this is where the Parliament and the palace where the Dutch Royal family livesare located.
It is located only 60 kilometers from Amsterdam and 30 km from Rotterdam, hence it is so easy to visit and a must stop for all those who want to know Holland .
Holland Museum in miniature
In the Madurodam museum 1:25 scale is represented by a total of 81 important enclaves of Holland.
It is the perfect visit to go with children and for those who will always feel children; I advance you that it is impossible that you do not leave enchanted of a museum that gathers the miniatures of the most beautiful buildings of a whole country.
Besides the fact that it is in miniature , it makes you see it as if it were an aerial view, and that gives it a special charm, because it is a vision of Holland that you will not be able to have otherwise.
Many of the miniatures are constructions and buildings, but there are also representations of everyday actions in typical places, such as the cheese market in Alkmaar .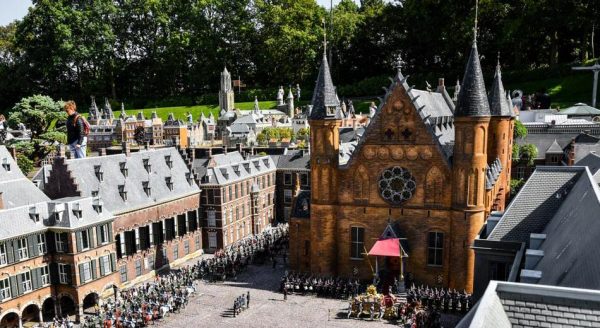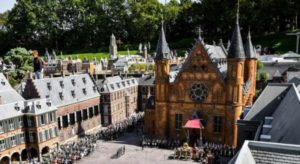 We think it is definitely a visit that is very worthwhile if you travel to The Hague, and it is currently one of the most famous tourist attractions in the country worldwide.
How to get to Madurodam in The Hague
The first thing to know is where is Madurodam inside the city, since this museum is not located in the historic center of The Hague.
Madurodam is located next to the Scheveningen forest , 3 kilometers from the Hague Central Station ( Den Haag Centraal )
To get to the museum, you have to leave from the center of the city in the direction of the beach, and Madurodam you find it halfway between them.
In our opinion, the ideal thing to get around Holland in general is the bike, an option that we always use and recommend.
Which tram goes to Madurodam
But it is true that if you do not want to go by bike (7 mins), or walk (you can take between 30-40 minutes, depending on your pace), it is best to go by tram to Madurodam .
Line 9 of the tram is the one that goes direct from the central station, and is the only option that leaves you right at the door.
This line runs from Den Haag Central Station  to the beach every 10 minutes, from 5.30 in the morning to 12 in the evening.
Undoubtedly, it is the fastest option since it is direct, besides it is a beautiful journey that goes through the canals and buildings of classical Dutch architecture.
You can also go on the bus line 22, but it does not leave you at the door as the tram does and it goes much further because it does not exactly do that route.
Excursions to Madurodam from Amsterdam
If you are staying in another Dutch city on your trip, you have the option of signing up for an excursion to visit Madurodam .
In fact from Amsterdam there are many excursions to visit other cities in the surroundings such as Rotterdam or The Hague that include as one of the star visits the Madurodam museum .
Thus, here is the information about the excursion to Rotterdam, The Hague and Madudoram of 9 and a half hours, or the option of the excursion Delft, The Hague and Madurodam , in 5 and a half hours.
These excursions are conducted with a guide in Spanish .
Prices Madurodam tickets
The entrance fee to Madurodam is 16.50 for adults and children under 3 years do not have to pay.
Tickets can be purchased at the ticket office directly, or if you prefer you can do it online and you do not have to wait for queues to enter the museum.
As a travel advice if you are going to visit Madurodam , there are times when tourist maps in The Hague include a discount voucher of 3 euros at the entrance.
Madurodam timetable
The schedule visit Madurodam  varies depending on time of year, so that in summer open from 9 am to 20 pm and on the opposite side, from January to February schedule is only from 11 am to 5 pm.
So that you can consult it before your trip, here you have access to the Madurodam schedules in The Hague .
What to see in Madurodam
As we have mentioned before, there are 81 places in Holland that are represented with miniatures, but it is true that there are some smaller ones that go unnoticed and others that are truly obvious.
The port, the airport, the offices of ING are some of the ones you will see although you do not look for them because of their size, but there are some in which looking for them is almost an odyssey.
That is the charm to discover the most beautiful corners of Holland .
If you have already visited this country on several occasions, as it is our case, it is very fun to recognize many of the points that you have previously known at life size.
But if you've never been to Holland and it's your first visit to the country, it's great to get an idea of ​​what you're going to see if you go through it in depth.
It is a museum that encourages you to travel and to know Holland and we love that.