After the trip I will tell you that the experience is totally worth it.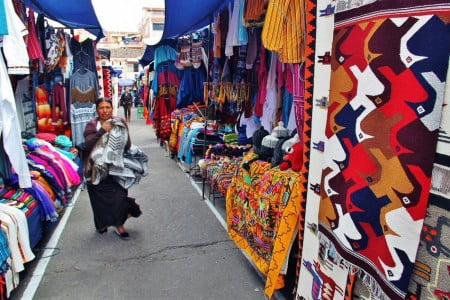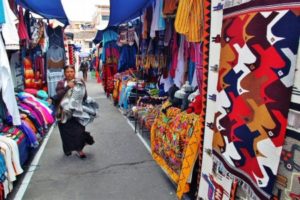 The visit of the city of Quito has the great attraction of being able to know its historical heritage from the colonial era , but also the possibility of visiting its surroundings, where Otavalo occupies a preferential place.
How to get to Otavalo
Otavalo is located just over 100 kilometers north of Quito , about two hours away, and sits in a valley where the Imbabura volcano is located.
With a population of about 40,000 people in the city of Otavalo is majority indigenous population of Otavalos or  kichwa , whose presence confers a special appeal to this market.
This indigenous population stands out for its special clothing .
Men usually wear a white shirt and pants, a blue poncho, hat and espadrille.
And the women will call you attention because of their embroidered white blouse, blue and black colored anaco, and a thick belt at the waist.
What to see in Otavalo
If you prefer to go on your own to visit the market of Otalavo , you should know that its nerve center is known as Plaza de los Ponchos , where it takes place every day of the week, but its greatest splendor is reached on Saturdays.
Indeed, every Saturday the aforementioned square and all the surrounding streets become a big flea market.
There you will find, above all , Otavalo's textile products , such as hats, ponchos, scarves, shirts, pants, espadrilles …
But you can also buy other types of handicraft products in clay, paintings, wood, costume jewelery, goldsmiths, both from Ecuador and other countries.
Otavalo market hours
The schedule craft market in Otavalo is 7 am to 6 pm.
Another reason to choose Saturday for your visit to Otavalo is that on that day you have the opportunity to visit the very curious animal fair of Otavalo .
Of course, this popular fair is held very early, so you should not go later than 9 in the morning.
You must complete your tour of Otavalo by visiting the food market, where you will also find very curious and popular scenes.