Walker Bay is also an ideal place to see whales and white sharks .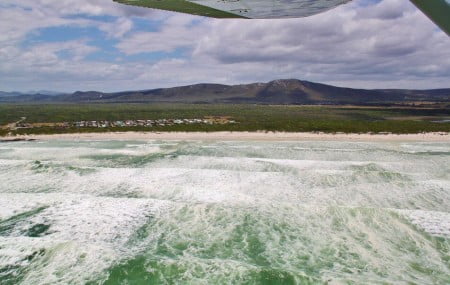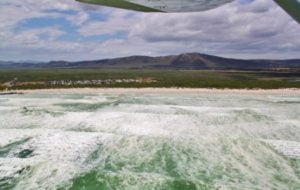 In addition, it is the only area in the world where you can dive in a cage surrounded by white sharks , an activity that we had the opportunity to do … although that is another story.
Whales in Walker Bay
The truth is that our visit to Walker Bay was in mid-December, when a couple of weeks before the last whales had already migrated.
The whale season in South Africa goes from July to November, and it is in the tourist town of Hermanus where the port is located from where all the excursions go to see them.
Moreover, according to what they told us, Hermanus is the only place in the world where you can see whales without having to take a boat, because it is such an abundance that can be seen from the promenade itself.
But if you want to make a very special trip, in Walker Bay you can sign up for a safari to see whales from a plane .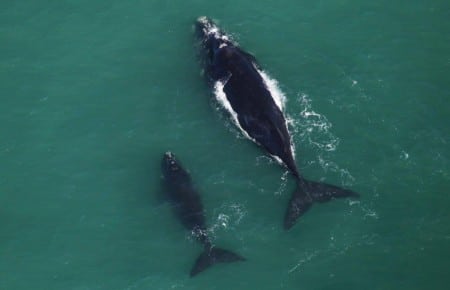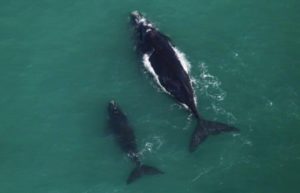 This is what you can see in the photo he made from the plane to the last pair of whales that migrated from Walker Bay, just a couple of weeks before we arrived.
Walker Bay from the plane
Although there were no whales, we had the opportunity to fly over the natural landscapes of Walker Bay by plane .
In this way Evan received us the friend Paco Nada l and me in view of our faces once we were settled in the apparently very fragile plane.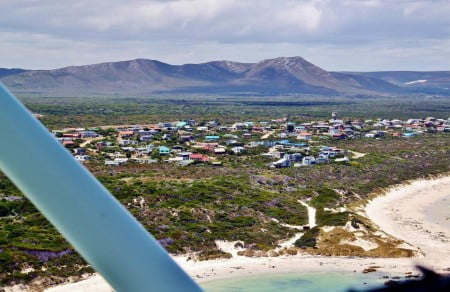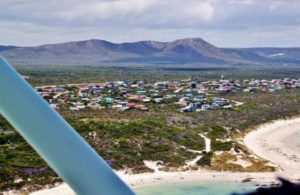 After taking off on the dirt track, the flight was really a very pleasant experience.
First we fly over Grootbos and then go around the impressive beach of Walker Bay .
We also made several turns on a boat that was developing cage diving activity with sharks , and we flew on a small island that was full of African penguins, the same ones that we could see up close at Stone Point the day before .
After an excellent landing, we were really expectant about what the trip would have been like if we had been able to see the whales. Surely something impressive.
In the video inserted in this article you can see a summary of the tour with images of it. Do not miss it.