If, indeed, it is about going to visit Santa's house !
I assure you that this visit is not only of interest to children, but also to adults whose faces during it reflect the return to the illusions of childhood.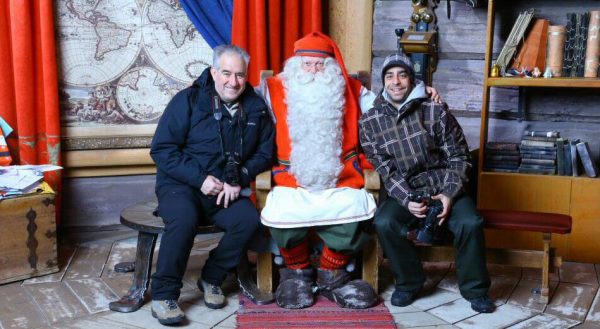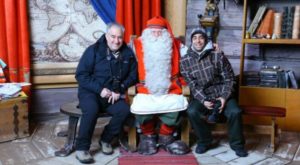 This enclave near the city of Rovaniemi , one of the most important in the Lapland region of Finland , I visited for the first time many years ago during my trip to the North Cape by van.
And I mean the enclave, not the town of Santa Claus , which at that time did not exist.
The interest of this enclave. and the reason why we made a stop on the route, is that it is the place where you cross the imaginary line of the Arctic Circle .
At that time in this place you only found a sign indicating this geographical landmark, and a small wooden house next to the point of the road where a line on the road marked you the aforementioned imaginary line.
Of course the tourists made the typical  photo crossing the Arctic Circle .
Roosevelt cottage in Rovaniemi
The aforementioned wooden house, known as Roosevelt's Cabin , has a historical importance.
It was built in a hurry in 1950 when the first lady of the United States decided to visit this place to find out how reconstruction work was going on in this area of ​​Finland, which was very affected by the Second World War .
The cabin was intended to host the welcome ceremony, and as a curiosity I will tell you that it was built 108 meters further south of the true geographic line of the Arctic Circle .
But the truth is that, from then on, the cabin became a tourist attraction .
It was an essential stop for those who were traveling in the area and we stopped to get the typical picture, as well as having a coffee or buying a souvenir .
Finally, in 1965 a new cabin was built in the geographically exact location of the Arctic Circle (the one I saw on my trip …), and in the 70s there were already some 90,000 visitors per year through this place.
What to see in Santa Claus Village
From that cabin it is like especially since the year 2000 the diverse attractionsof what is now known as the Santa Claus Village were born .
It is a group of buildings located eight kilometers north of  Rovaniemi , considered the birthplace of Santa Claus , and whose first office was installed in 1985.
Now when you arrive at the Santa Claus Village , you will find several  attractions that in a certain way can remind you of a theme park , although without being in an enclosed area, but open to all visitors.
House of Santa Claus
The undoubtedly most prominent corner is the House of Santa Claus , also known as Santa Claus , the first place where all visitors go.
To give you an idea, when you enter you have the feeling of finding yourself in a theme park attraction .
Going through different rooms decorated with all kinds of objects that refer to Santa Claus , you arrive at the peak moment that is to say hello in person to Santa Claus himself .
He waits for you in an armchair and invites you to sit down to have a brief talk while, in parallel, you are doing some photos and a video.
Then when you leave the building, in the souvenir shop  is where you can buy this souvenir.
The House of Santa Claus is open at all times of the year, not only in winter, and for the thousands of visitors who come every day to greet Santa Claus , you must be warned about the possible long queue that is created for that visit .
The schedules of the House of Santa Claus are, in winter, from 10 in the morning to 5 in the afternoon, and in the months from June to August, from 9 a.m. to 6 p.m.
Postal Office of Santa Claus
Another corner to visit is the Postal Office of Santa Claus , which is managed by the Post Office of Finland .
It is a beautiful establishment, very comfortable and colorful, where you can send your letter to Santa Claus , for which you have cozy sofas and the warmth of a fireplace so that writing your own letter is a very pleasant experience.
You have the possibility to see many letters, and you will be surprised by the original and often endearing requests of visitors who have left your letter.
As a curiosity, when we visited it on a blackboard it was indicated that Santa Claus had already received more than 17 million letters from 199 countries around the world.
And it is also highlighted that during the Christmas season , Santa Claus received some 32,000 letters a day at that post office, with China, Poland and Italy occupying the top countries of origin.
Snowman World in Santa Claus Village
Another corner to visit in Santa Claus Village is the Snowman World .
It is a facility that includes a bar and an ice restaurant , as well as a small ice hotel .
In this ice restaurant you can taste the most typical dish of the area, the salmon soup , which, taken hot, is very comforting.
During the visit you can also descend with some big tires on an icy ramp; It is a short experience but I assure you that you reach more speed than you expect.
Reindeer and huskies in Santa Claus Village
In the town of Santa Claus there are other activities, some very suitable for children, and within what is configured as Santa Park .
So, for example, you can take a short walk through the forest on a sleigh pulled by husky dogs .
Or if you prefer a quieter ride, you can opt for the sleigh pulled by a reindeer .
In sum, the visit of Santa Claus Village is an essential experience in your trip to Rovaniemi , especially in winter; and sure it will also be an unforgettable experience.
Tour of Santa Claus in Rovaniemi
In the face of your visit to Santa Claus Village , you have the option to sign up for a tour from Rovaniemi .
With a total duration of six hours, from Rovaniemi you will go to the mentioned house of Santa Claus driving a snowmobile .
Before arriving you will visit a reindeer farm and go for a reindeer sleighride , to finally visit the Santa Claus Village , with a typical Lappish meal included.
Photos of Santa Claus Village
Here you have more pictures of Santa Claus Village attractions , which you can visit near Rovaniemi in Finnish Lapland .
Reindeer sleigh in Santa Claus Village in Rovaniemi
Ice bar at Snowman World in Santa Claus Village in Rovaniemi
Ice hotel in Snowman World near Rovaniemi
Snowman World in Santa Claus Village in Rovaniemi