To a large extent, it is a dream destination because it contains some places that we all surely want to know, such as the lost city of Petra .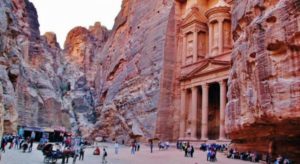 Despite that special halo that surrounds the destination, the best thing is that once you have the opportunity to travel to Jordan , not only will not disappoint you, but you will discover places whose charm you could not imagine.
I already told you that this happened to me with the desert of Wadi Rum , which was the best surprise of my trip.
The first thing I will tell you is that you should discard the possible doubts that this country may create for you on the subject of security .
Is Jordan a safe country to travel?
In fact, Jordan is considered the  Switzerland of the Middle East .
It is indeed a Muslim country that in recent years has suffered the fall of tourism from Spain as a result of the  Arab Spring , and the war with Isis in the neighboring countries.
But from my point of view, the most important thing when considering a trip to a country is that it has political stability.
And that regardless of the risk of jihadist attacks that, unfortunately, at the moment exists not only in the Middle East , but especially in Europe .
In fact , no political revolt is taking place in Jordan , and after touring it during my trip I can affirm that it is a  safe country for tourists .
As for another reluctance that the Muslim countries always produce, the treatment of women is much closer to that of Western countries than they are in other countries around them.
Of course you see women with veils, but it is also common to see many women wearing Western clothing, something that does not happen in other countries where we also tend to travel.
Jordan is a country of arid landscapes, except north of Amman, where I have been told that there are areas with great vegetation, which I can not confirm because it is an area that I did not visit.
On the main route from Amman to the south you will find semi-desert landscapes , and desert with dunes in Wadi Rum .
Regarding the climate in Jordan , I traveled in November and had a very pleasant time, very warm, but far from the extreme heat of summer.
Now, from December and during the months of January and February it is usual for snow, and even large snowfalls can fall; that is, it is cold.
Jordan is not an exaggeratedly cheap country, as are some other countries, but it is cheaper than, for example, Spain.
A coffee or a tea can cost you a dinar, but if you take it in a luxurious hotel in Aman you can get to pay three dinars.
What does it cost to eat in Jordan?
Following with the food in Jordan , in standard restaurants of the country you can eat for about 13 dinars, and in western restaurants of Amman you will have to pay between 8 and 10 dinars for any dish you choose.
Regarding the drink, I remind you that you are in a Muslim country where alcohol is very restricted, although in tourist hotels or Amman restaurants you have no problem to have a beer or drink wine.
Of course, for a beer you have to pay about 7 dinars and the wine has really prohibitive prices in restaurants, from 17 to 30 dinars for a bottle of local wine; in a duty free you can find it for 7 dinars a bottle.
The usual among tourists who come from Spain is to sign up for a trip of a week , organized by a travel agency, during which they visit the places of greatest interest (which comes to cost about 1,200 euros).
Jordan on your own
But more and more there are people who prefer to travel to these countries on their own, although it must be said that in the case of Jordan, you really do not get a special savings.
But if you wish, it is not complicated to  move around the country on your own .
You can  rent a car without problems and the three main roads are not in bad condition.
The indications are in English, as well as in Arabic, but be careful when crossing towns, because although you will be driving on a highway, you will find the typical bumps to slow down.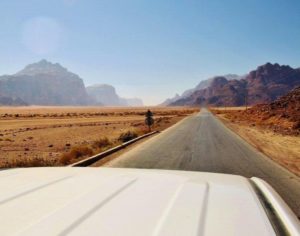 Be respectful of the limitations and drive with prudence, because in addition to having many police officers on the roads with speed controls, the highway can be crossed by pedestrians or animals.
Also, speaking English, you can handle yourself well for Jordan.
Looking at your accommodation, it will be useful to look for hotels to travel to Jordan on booking.com .
In Jordan you will find very hospitable people, not yet  ruffled  by tourism, but which maintains its Muslim customs.
Thus, for example, you can not enter mosques , as in Morocco, for example, except in the case of the  King Abdullah Mosque in Amman , known for its large  Blue Dome , which is considered a tourist attraction.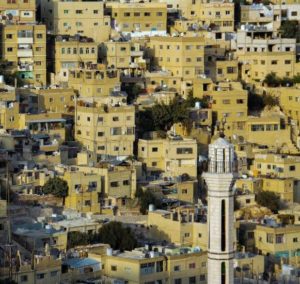 Essential visits in Jordan
As for the  essential visits in Jordan , without a doubt the main protagonist is Petra , archaeological enclave of Nabataean culture .
The  price of the entrance to Petra  is not cheap, 60 euros, but keep in mind that it is one of the great wonders of the world .
This price includes a first ride on the backs of a donkey (apart from tip).
Another option that you have is to enjoy the very special night visit of Petra .
Desert of Wadi Rum
On your trip to Jordan it should also be essential to visit the  Wadi Rum desert .
This visit takes place in an all-terrain vehicle, and during the same you can live the experience of staying in a camp in the desert or you can also see the railway of  Lawrence of Arabia .
Bathing in the Dead Sea in Jordan
Another great attraction is the Dead Sea , where you can stay in a luxurious Western-style resort , where you will live the curious experience of floating in its salty waters, as well as giving you a mud bath .
Nearby you also have Bethany , another archaeological site on the banks of the Jordan River , on the border with Palestine, where it is considered baptized Jesus Christ.
There you can do your own baptism in the Jordan River .
And, of course, another of the attractions of a trip to Jordan is to dive or snorkel in the Red Sea , where you find crystal clear waters.
But in Jordan there are other less known places that are also advised to visit, which I could not do during my trip, remaining pending for the future.
Above all, the  ruins of the Roman city of Jerash , one of the best Roman enclaves you can see in the world.
And also the old crossed bastion of  Karak , the  route of the Castles  or the enclaves of the old  Holy Land .
Amman Citadel
Finally, tell you that in your stay in the capital of Jordan , you should not miss the so-called Amman Citadel .
It is an archaeological site located in one of the hills in the center of the city, where you will see remains of Roman , Byzantine and Muslim monuments .